2017-2018 SEASON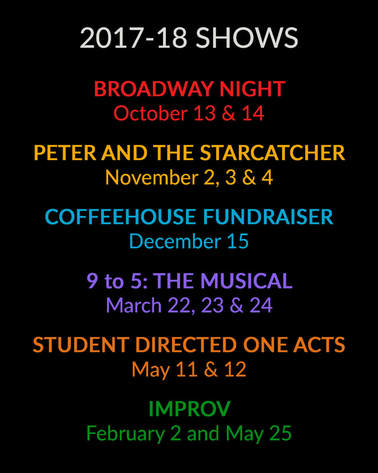 BROADWAY NIGHT

OCTOBER 13 & 14 2017

A musical theater cabaret featuring songs & dances from the classic and contemporary show tune songbooks.
FALL PLAY: PETER AND THE STARCATCHER

NOVEMBER 2, 3 & 4, 2017
A delight for all ages, this retelling of Peter Pan's origin story is an adventure tale featuring magical stagecraft, unforgettable characters and an inventively witty script
9 to 5: The Musical

MARCH 22, 23 & 24, 2018
The PAC's flagship production, the spring musical showcases the talent of over 150 BHS students working as part of the cast, crew and band.


IMPROV

FEBRUARY 2 & MAY 25, 2018
A crowd favorite, our improv shows are a mix of short form games and long-form sets, all made-up on the spot from audience suggestions.
ONE ACT FESTIVAL



MAY 11 & 12 ,2018

A true showcase of the PAC's talent, the festival is a collection of short plays directed, designed and performed entirely by students.
---